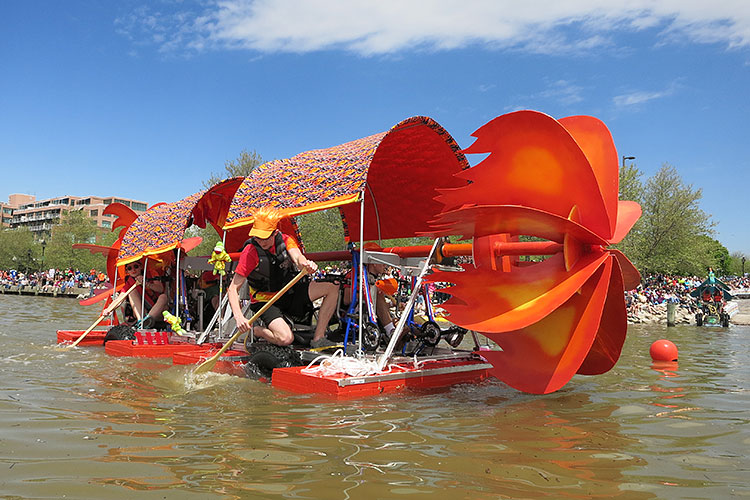 Engineering

award winner Fire in Baltimore Harbor on May 3, 2014. Want to see more photos?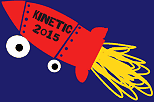 Sunday,

June 14!


Only 20 days until the new & rescheduled 17th annual race! Get working on your spectator costume now! The 2015 theme is OUT OF THIS WORLD, celebrating the 25th year of the Hubble Space Telescope.
Kinetic Race: Now June 14!
The 2015 Baltimore East Coast Championship Kinetic Sculpture Race will be Sunday, June 14. Put it on your calendar! We're working on a new 2015 Spectator's Guide. There will also be a new volunteer meeting Wednesday May 27.
Kensington Kinetic Derby May 16
While you're waiting for Baltimore, don't miss the Kensington Kinetic Sculpture Derby on Saturday May 16 near Philadelphia. This year's entry fee is waived for all Baltimore Kinetic teams! (Teams should arrive by 11am.)
Spectator's Guide
In June, we expect to publish a new version of the 2015 Spectator's Guide reflecting the new date. In the meantime, you can download the original 2015 Spectator's Guide.
Complete Coverage of the 2014 Race
Learn about the race with our complete coverage of the May 3, 2014 Baltimore race!
Kinetic Forum
Wondering how to keep your sculpture from capsizing or where to get the best photos? Racers, volunteers, spectators, and other enthusiasts are welcome in our Kinetic Forum bulletin board to discuss all sorts of kinetic topics. Post your question!
Support the Race!
Please consider donating towards the Race expenses through AVAM's fundraising campaign on the safe and secure Crowdrise website. Your support is tax-deductible and will ensure the 17th annual Kinetic Sculpture Race is a huge success!
What's a Kinetic Sculpture Race?
Kinetic Sculptures are amphibious, human powered works of art custom built for the race. Each May, the American Visionary Art Museum (AVAM) hosts the East Coast Kinetic Sculpture Race Championship on the shore of Baltimore's Harbor in central Maryland. The eight-hour race covers 14 miles—mostly on pavement, but also including a trip into the Chesapeake Bay and through mud and sand.
Kinetic Sculpture Racing traces its roots to Ferndale, California in 1969 when artist Hobart Brown upgraded his son's tricycle into a 5-wheeled pentacycle and was challenged to a race down Main Street. (Hobart did not win.) Over the decades since, the California race evolved into a 3-day all-terrain Kinetic Grand Championship including treacherous sand dunes, water crossings, and elaborate sculptures and costumes. You can learn more on Wikipedia.
For more about the Baltimore race, browse the race photo results in the left menu.
Where can I see Kinetic Sculptures?
You can go to a Kinetic Sculpture Race on the day(s) they run, or the American Visionary Art Museum in Baltimore, Maryland. AVAM displays Fifi and their other sculptures year round in the dedicated Sculpture Barn.
How to Build a Kinetic Sculpture
Learn from Elliot's How To Build a Kinetic Sculpture reference guide.